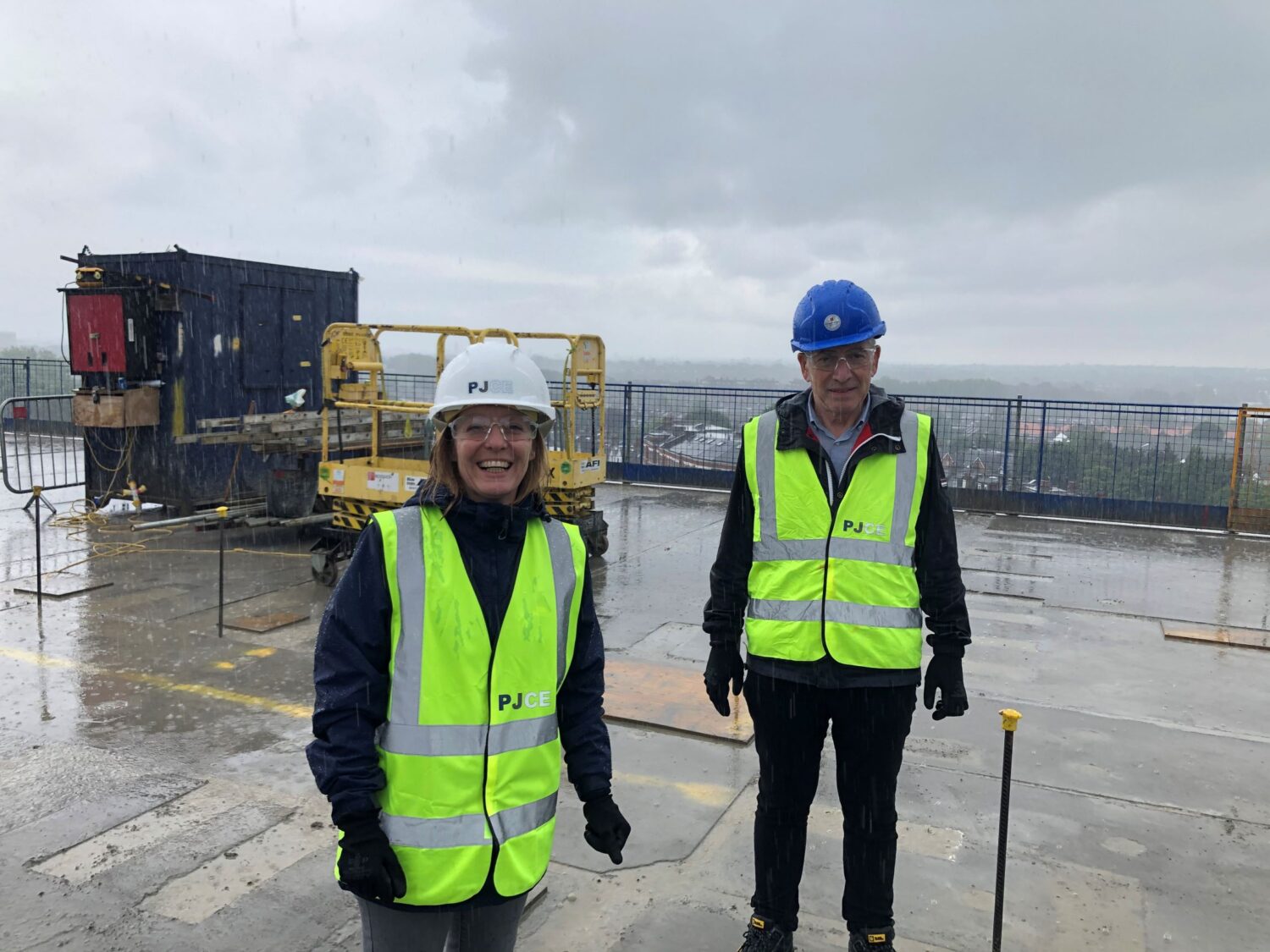 07.06.21
---
As restrictions imposed due to Covid begin to relax, last week I was pleased to have the opportunity to visit one of PJCE's current projects, Verdo, Kew Bridge and experience a precast concrete construction in progress.
PJCE has delivered the engineering designs for three residential blocks of between nine and fourteen storeys that form Phase 2 of EcoWorld London's development adjacent to the brand-new Brentford Community Stadium. While the first two levels of the build are of traditional in-situ concrete construction, providing residents' parking, above a metre-thick transfer deck the superstructure is entirely of precast elements, manufactured by Byldis.
On arrival at the site office, I was struck by the organisation and cleanliness of the build. The off-site construction method negates the need for scaffolding and vast supplies of materials and equipment to be stored on site. The precast sandwich panels are craned into position and pieced together to form the load bearing external walls.  Floor slabs and stairs are also precast, allowing an impressive turnaround of approximately one level per week, indeed the first of the three towers, 13-storey Block I was completed in just 4 months.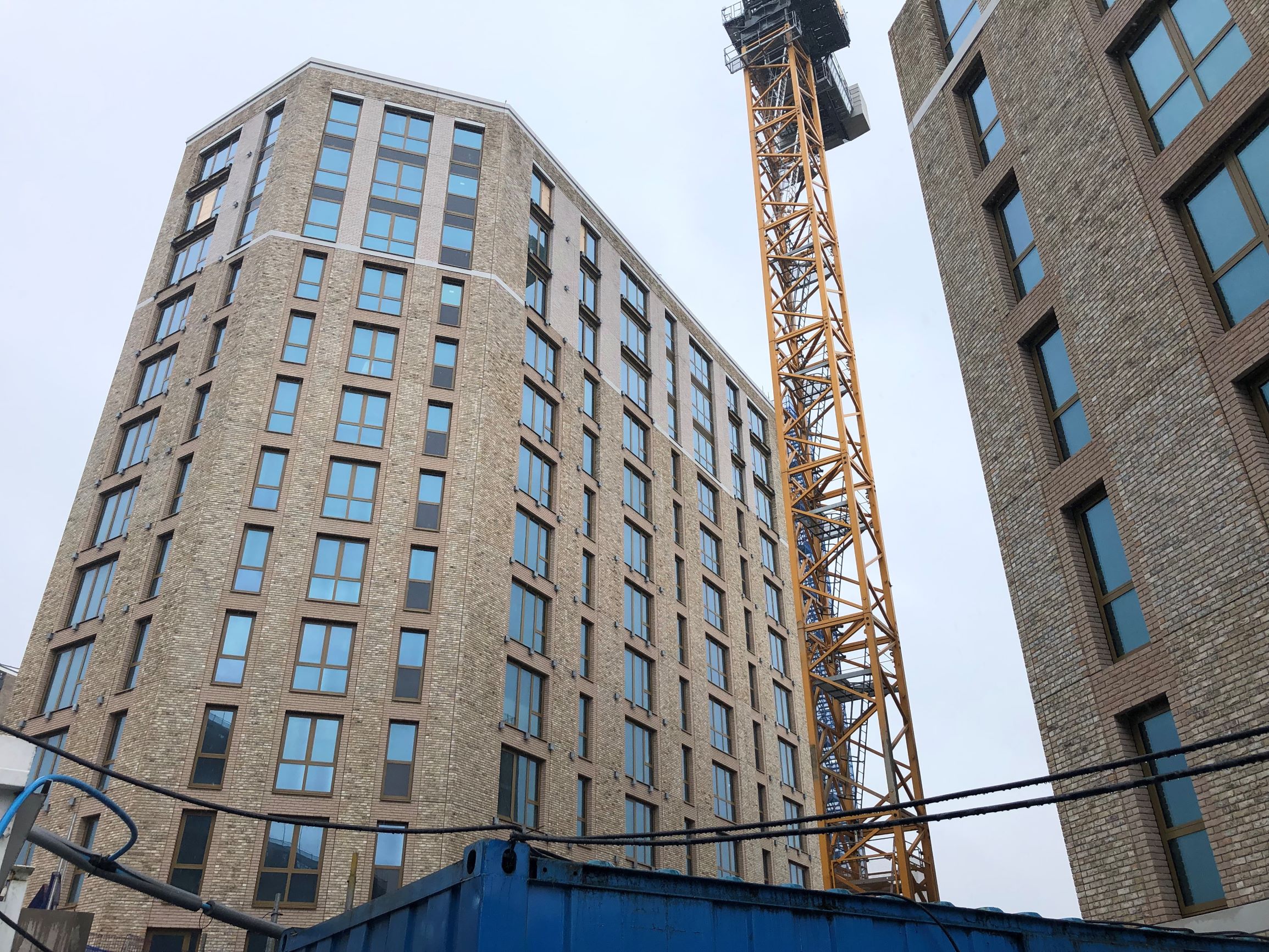 Block J, awaiting balcony installation
Phase 1 and other adjacent buildings under construction are of traditional in-situ methods and a visual comparison of the two is marked. A neighbouring building of traditional construction is completely shrouded in scaffold and a large workforce were evident working on the build. In contrast there were very few contractors present on Building K, Verdo.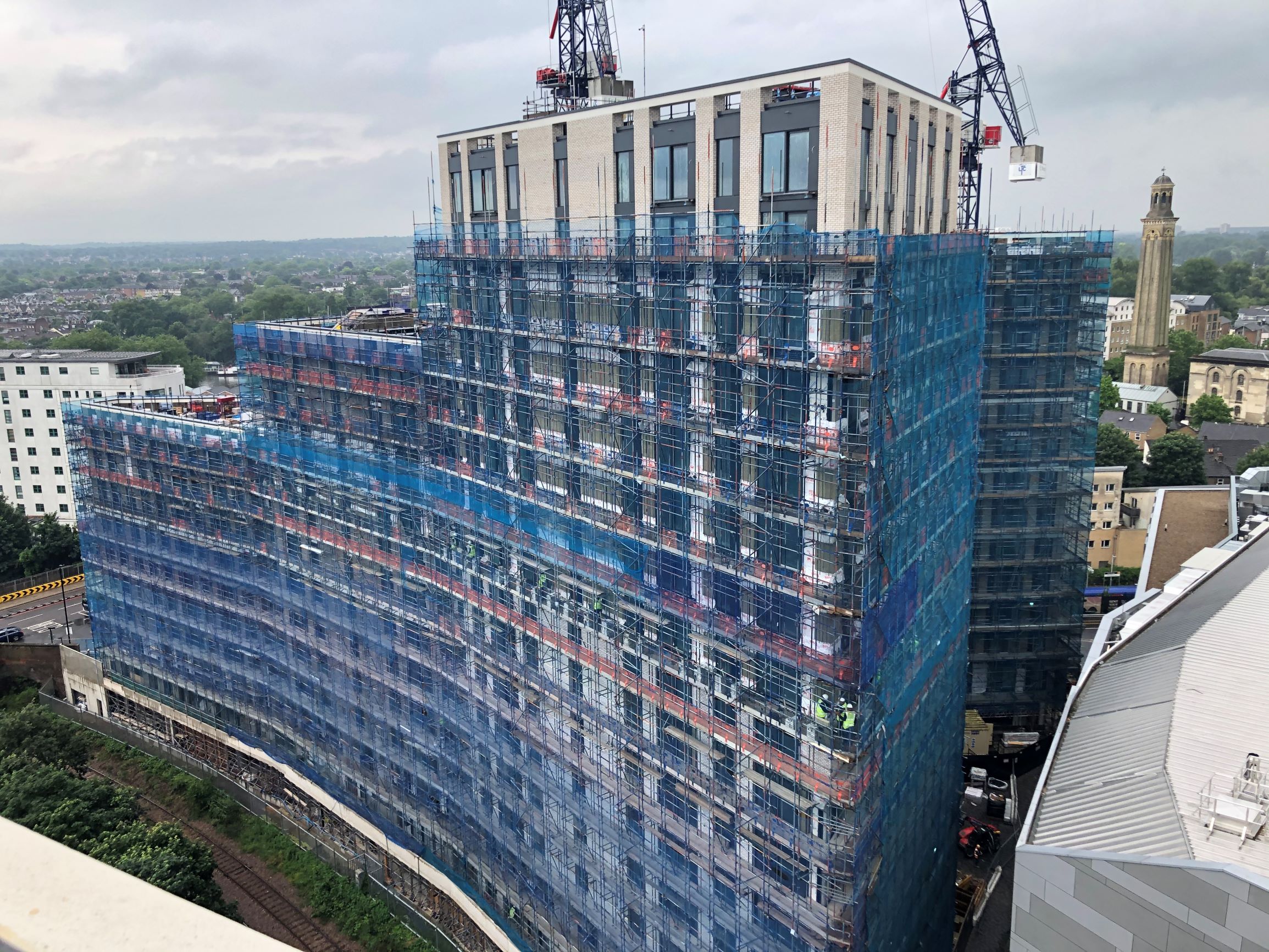 Neighbouring in-situ construction
Company Director, James Bishop, explains some of the features of this modern method of construction:
The perimeter sandwich panels comprise 3 parts: an inner, load-bearing concrete layer; an insulation layer and an outer element which incorporates the brick façade and glazing. These are imported from the Blydis factory in Holland. Concrete floor slabs and stairs are brought in from Ireland.
Laying of the panels and slabs is carried out with great precision and this is illustrated perfectly by the image of the brick façade below.
Structural internal walls are installed and supported with props for up to 92 hours to allow the concrete to cure.
During assembly, the tight vertical and horizontal joints between elements create a weatherproof envelope. Temporary waterproofing can be applied to allow follow-on trades to commence at lower levels.
Progressive collapse ties are provided between all elements to comply with disproportionate collapse regulations.
Balconies are bolted onto fixings built into the panels and installed once the main structure is complete.
My visit highlighted some clear benefits for offsite construction and while the manufacturing and importation may make it a relatively costly route, savings on labour, build-time and site safety mean it is a very viable route for consideration.